Prétear
Written by: Meiko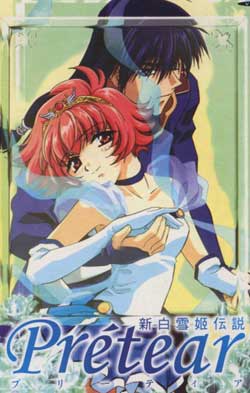 Well, now that I'm all done with school for the next four months, I think I have time to write a new review. Last week I finished watching Prétear in my anime club. This is the story of a girl named Himeno who has the power to become the prétear, which means that she can pret with the leafe knights and fight the demon larvae and the princess of disaster. Ok, that made a lot of sense, I'm sure, to all of you out there who haven't seen this series yet. Basically she is a magical girl who can merge with some cool guys with magical powers and take on their magical powers to fight the enemy. There are plenty of love triangles, fight scenes and those classy magical girl transformations that we all know and love (or love to hate).
Ok, I'll be the first one to admit it, there is nothing groundbreaking about this series, or at least not with the plot. It was really about as formulaic as you can get... unsuspecting magical girl, mysterious enemy (c'mon, with a name like Princess of Disaster, how much more stereotypical can you get?), forbidden love and the list could go on forever. But... there was something about this series that kept me coming back... I'll admit it, I am definitely hooked on Prétear.
Just like any other worthwhile magical girl series out there, it has a healthy helping of everything you could want from an anime, while still keeping it rated PG. That is ... lots of battles and magic, romance and comedy. Himeno's family is great. Tanaka the butler, Mayune, Himeno's step sister, and Yayoi, Himeno's friend are just great, absolutely hilarious. Although the plot overall may be rather typical and predictable, they did manage to throw in some unexpected plot twists that kept me hooked. The love interest actually plays an important role in the story line which is always helpful and another great thing is that you don't get the sicky-sweet feeling that you sometimes get with animes geared towards younger audiences.
Animation in this series isn't what I'd call groundbreaking, but definitely above average. The colors are bright and cheerful and character design is quite appealing. The music for this series is, again, not groundbreaking, but definitely above average, I particularly enjoyed the opening theme. I think the selling point for this anime might just be the fact that it is only 13 episodes. This series could have easily fallen into the filler episode trap. It didn't. Every episode contributed to the plot very well, which raises this series much higher on my list of favorite anime. Maybe my problem is just that I expect too much from the magical girl genre. They are fun to watch, but plot wise pretty unoriginal. Overall, Prétear is a very entertaining series, definitely worth the money, just don't expect to become a better person from the experience.
Prétear has been released by ADV in four volumes, the last of which was released March 30th, 2004. The list price for each volume is $29.98, but shop around, you can get a better price than that.
See also... Meiko Anime's Prétear Image Gallery.
MorningBelles's Comments: It's a must-see if you're really into magical girl, like me. Even though it's only 13 episodes (which is better than Devil Hunter Yohko, because that's 6 episodes), and it's quite unoriginal (it's a cross between Card Captor Sakura with the costumes, and Sailor Moon with the attacks), it still have its funny points. Like Meiko mentioned, Himeno's stepsister, Mayune, is hilarious. Also, the three younger Leafe knights are kawaii! So cute...if you want to see a little romance, a girl "preting" with someone, and comedy, this I recommend this.